Lesson Rates | Kevin Kretovics | Chuck Hyde III | Jordan Fronabarger | Ashley Knoll | Eric Salas
Kevin Kretovics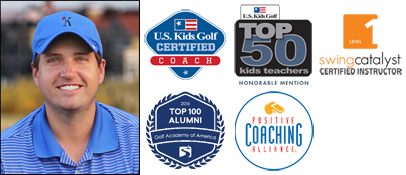 Background
Kevin has played all levels of the game, from juinor golf to professional tournaments. He developed a passion for golf at an early age that he now passes along to his students.
For adult golfers, Kevin's specialtiy is getting results for two things:
lower scores
and being happier on the golf course
He believes that by only taking traditional 1-hour private golf lessons, golfers aren't being introduced to the true concepts needed to lower their scores. Most amateur golfers are fixated on the look and process of their full swing. Kevin says, "If you're wanting your swing to "look" a certain way, then you're not focused on the items that are going to help you be the most successful in golf. If you want results and are dedicated to getting them, then our coaching programs hold the most benefit for you. We even guarantee your results. Our method of group coaching helps each golfer learn what they can do to achieve the success they have always desired. Think about it, after you've taken numerous private lessons elsewhere, maybe you've seen changes to your swing mechanics, but have you seen any changes to your scores or handicap? Don't you think it's time to learn why that is? Come see us and experience a mindest that allows golfers to lower their scores and be happier on the course."
Coach Kevin also loves teaching junior golf. He is a U.S. Kids Golf Certified Coach and received the "Top 50 Kids Teachers Honorable Mention" award multiple times. In 2014, Coach Kevin created the Kevics Junior Academy (KJA) to help introduce juniors to the game of golf. At the primary levels of the KJA he has incorporated fun and interactive group activities. At the higher levels, the individual demands for personalized practice and success are amplified with the common goal of pursuing collegiate scholarships.