Instruction Prices | Kevin Kretovics | Chuck Hyde III | Ashley Knoll | Eric Salas
Kevin Kretovics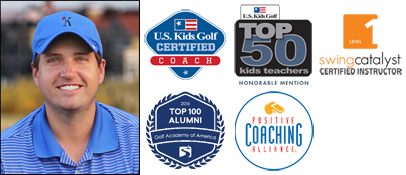 Background
Home Town: Lorain, Ohio
Coach Kevin started playing golf at age 8. He continued to play competitively in high school and juinor college. After graduating with a Computer Information Systems degree and a minor in fine arts, he worked in the IT field for several years before the golf industry starting calling him back.
Once Coach Kevin realized his true passion was with the game of golf, he moved to Orlando to attend Golf Academy of America. Upon graduation, he worked with the Hank Haney International Junior Tour, Walt Disney World Golf Resorts, and the Jim McLean Golf Schools. Those opportunities have provided him with the ability to share his knowledge with students of any age and skill level.
Coach Kevin has a soft spot for junior golf. He is a U.S. Kids Golf Certified Coach and club fitter and received the "Top 50 Kids Teachers Honorable Mention" award multiple times. In 2014, Coach Kevin created the Kevics Junior Academy (KJA) to help introduce juniors to the game of golf. At the primary levels of the KJA he has incorporated fun and interactive group activities. At the higher levels, the individual demands for personalized practice and success are amplified with the common goal of pursuing collegiate scholarships. There have been numerous wins from the KJA across several junior tours and events each year. The KJA's first graduating high school senior also earned a 4-year collegiate golf scholarship.