Lesson Rates | Kevin Kretovics | Jordan Fronabarger
Kevin Kretovics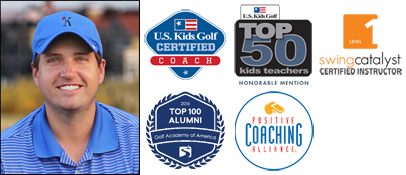 Background
I've played golf at all levels, from juinor golf to collegiate, and even professional events. I've taught with and was a mentor for some of the top golf instructors of all time. The most important thing I've learned from my experience is this... if a golfer is provided with a simple and easy to understand structured plan, and taught with the tools and mindset needed shoot lower scores, then they will SHOOT LOWER SCORES!
I want my students to get RESULTS. While 1-hour private golf lessons can help the process of improvement, they are by no means the ultimate answer. There is more to the golf puzzle and I want to share that information with you. I specialize in guaranteeing lower scores for my students. How many strokes? It depends on the student's responsibility, their dedication to goals, and the their determination to reserving the time needed to achieve their goals. My students are held to a high level of accountibility and honesty within themselves. The best ways to grow in any area are by getting out of your comfort zone and by tackling challenges head-on.
Let's make this the best year of your life on the golf course. Schedule a free Meet & Greet with me by clicking here. I look forward to starting your journey toward happier golf.
Awards, Certifications, Service
Golf Academy of America Top 100 Alumni: 2016, 2018
Jim McLean Certified Instructor
U.S. Kids Golf Certified Coach
U.S. Kids Golf Top 50 Kids Teachers Honorable Mention: 2016, 2017, 2019
Former Volunteer for The First Tee Dallas