Lesson Rates | Kevin Kretovics | Jordan Fronabarger
Kevin Kretovics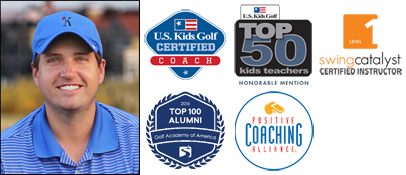 First and foremost, I am a Golf Coach, not a Golf Instructor. My mission is to build a relationship with each of my players which allows us to earn each other's trust and produce results. My players receive solutions and guidance to achieve LOWER SCORES.
I've played golf at all levels, from junior golf to collegiate, and even some professional events. I've had the privilege to study the golf swing under the guidance of some of the top golf instructors in the world. Was it a great experience? You bet it was. What did I learn?... I learned that they were great "instructors" and that I wanted to be more than that. I wanted to be a coach for my players. To be able to have those no nonsense, no sugar-coating conversations to inspire their success. I later discovered how "coaching" gets my players results and LOWER SCORES faster.
I expect my players to get RESULTS and they should too, period. Let's make this the best year of your life on the golf course and make it the stepping stone to happier golf. Isn't time you finally let yourself get the results you've desired for so long? Get the free consultation below, you've got nothing to lose except more strokes from the scorecard.

I developed a fondness for golf at age 10. I played on the high school and collegiate teams managing to be a mid-to-upper 70's shooter. Then, much like every other amateur golfer, I hit a plateau. I was shooting the same scores within a range, over and over again. I wasn't able to breakthrough to shoot lower scores. I, just like you, had 2 choices.
Choice 1: I could accept my fate as a golfer, let myself believe I wasn't able to be fixed, believe that for the rest of my life I would always shoot higher scores, and that I had reached my prime.
Choice 2: I could find the right coach and right training system to help me understand my problems to get the results I've always wanted, which was to shoot under par at least once before I died.
Fast forward to post college. I worked in IT for several years as an intern and as a career. I would watch the clock count down everyday until it hit 4:00 PM. Then I was out the door and on the first time before you could blink but I still shot in my range of 78-85.
Next, I took the first step, accountability. I convinced myself that nothing was going to change unless I personally did something about it. So I chose
Choice 2
. I left my IT career, packed up my life, and waived goodbye to the golfer I was. My new journey to play better golf started when I enrolled in golf college at GAA Orlando. The experience and training I received there took my handicap from a 12, down to a 1 in just 12 months! After that, I was an intern for Hank Haney's company in Hilton Head Island and then I became a Certified Instructor with the Jim McLean Golf Schools in Texas. That's 2 of the top 5 instructors in the world at one point in time. But even then, after I was surrounded by these great instructors and their great players (most were top ranked juniors and Tour pros), I had yet to truly learn and understand "how to help the average golfer shoot lower scores". I saw amateur golfers, Joe Schmo's and Sally Smith's alike, take 1-hour lessons week after week. Their swings got prettier but their handicaps never got better. Their scores never got lower. The results just weren't there after spending hundreds of dollars on "instruction", not "coaching".
"Coaching", that was the key. I discovered "how to help the average golfer shoot lower scores" in January 2017 when I met my mentor and good friend, Will Robins. He called it The Scoring Method (TSM). When I personally trained with Will and his coaches to learned TSM for myself, the results were astonishing. It was the solution to all my years of struggling as a junior golfer, a collegiate golfer, and the IT guy. It was the plateau breaker.
TSM is now the foundation upon which I teach my students. The concept is simple to understand and easy to implement. However, when the student is ready, only then will the coach appear. Meaning, there is a mindset that comes with TSM, one that if you accept and commit to, allows me to guarantee you results. This was part of my struggle and mistakes as a golfer. I always thought I could figure it out. I was always so close to getting better. I didn't want or need an teacher. Then I realized, those were all based on my fear of failure. I finally let down the wall to bring out my golf pains and my golf problems. I was able to see the light, take hold of it, and be healed on the golf course. Golf became fun again. I was happier on the course. My scores improved.
If you're reading this, you more than likely have a golf problem. Maybe you've plateaued, maybe you're not happy on the course, or maybe both. If you're shooting in the 100's, 90's, even the 80's, I have the solution for you. Are you ready to commit to it?
General
Hometown: Lorain, OH
Moved to Texas: 2010
Family: Wife Lauren & daughter Layla
Work Experience: Hank Haney IJGT, Jim McLean Golf Schools, Walt Disney World Golf (Orlando), Golf Academy of America Dallas
Sports Favorites: Cleveland Indians, Browns, Cavs, Pittsburgh Penguins, The Ohio State Buckeyes
Education
Lorain County Community College (LCCC): Associates of Arts, Fine Arts
LCCC: Associates of Science, CIS Network Communications Technology
LCCC: Associates of Science, CIS Software Development
Baldwin-Wallace College: Bachelors of Science, CIS Network Analysis
Golf Academy of America: Associates of Business, Golf Complex Operataions & Management
Awards, Certifications, Service
Golf Academy of America Top 100 Alumni: 2016, 2018
Jim McLean Certified Instructor
U.S. Kids Golf Certified Coach
U.S. Kids Golf Top 50 Kids Teachers Honorable Mention: 2016, 2017, 2019
Former Volunteer for The First Tee Dallas
Bay Hill Invitational Pro-Am Caddie 2009
Tavistock Cup Player Services Volunteer 2009